A natural foods junkie at McDonald's
He couldn't imagine anything good about fast-food places – until he took his son to one.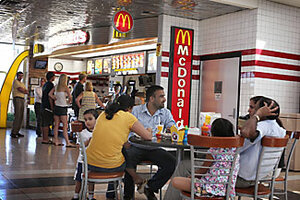 NEWSCOM
They say that having kids changes everything, and it's true. Before becoming a parent, I never ventured into fast-food places. Actually, as a natural foods enthusiast who purchases local, organic food as much as possible, I avoided them altogether.
But a shift occurred when my mother suggested we stop at Wendy's because it had a place for my 3-year-old son to play. She ordered a coffee, I drank an orange juice, and my son immediately became absorbed in swinging on a set of soft monkey bars, making friends with several other toddler monkeys in the process.
A few days later, we stopped at a McDonald's with an indoor play area. My son soon settled into a seemingly endless loop of climbing up to the top of a big, blue spiraling tube and then sliding down. Every few minutes he would run over and take a drink of my water, and then disappear until I saw him beaming at me from behind one of those Plexiglas portals. Soon he was at the bottom again, sweaty and wanting more water.
When he needed to use the restroom, I was surprised to find child-size fixtures alongside the adult ones. This might not seem like a big deal, but in all my years of going to vegetarian restaurants and natural foods markets, I never remember seeing a kid-friendly bathroom. Surely, the people who work at such places are more likely to know about Maria Montessori and her belief that children need exactly these kinds of accommodations in order to feel comfortable in the world. Yet, it appears to have been McDonald's that introduced this innovation, as well as the PlayPlaces, into the world of commercial eateries.
---