Keeping up with the Obamas
How the new administration helped to bring out the romantic in a husband.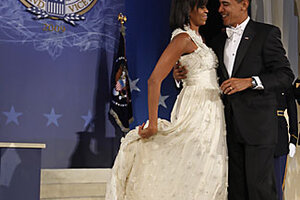 AP/FILE
I looked up at the TV to see Barack twirling Michelle around the dance floor. They were kissing, holding hands, and, at one point, he even dipped her. For the women reading this, I ask you, "When was the last time you were dipped?"
"Obama is very affectionate with Michelle in public. He really loves her," I said to my husband, Cesar. We were sitting on the sofa eating chips and dip.
"Maybe he loves her, maybe he doesn't," Cesar said. "Part of being a good politician, after all, is being a good actor. Why do you think Ronald Reagan was so successful?"
"What are you suggesting – that Barack Obama is 'acting' as if he loves her?" I said. "Excuse me, but Barack Obama does not fake love!"
"Now who is being naive, Judy?" he said, à la Al Pacino in "The Godfather." "Until he actually does something, he's just a lot of hype."
I remembered a conversation I'd had earlier in the week with friends who had noticed that their husbands seemed jealous of Barack. Just as their stock portfolios are taking a hit, and perhaps their careers, they see Obama, and what's he doing? He's the leader of the free world! They see him jauntily hopping aboard Air Force One, signing bills, conducting press conferences, and typing on his BlackBerry, all the while looking great. Let's face it, he's the big man on campus right now.
---