Essay: A boat rower's slumber
The swells of Lake Superior and the quiet of its northern shore draw the writer to thoughts of sleep.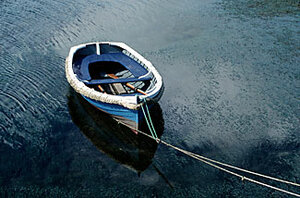 Melanie Stetson Freeman / The Christian Science Monitor
When I can't sleep, I imagine being in places so snug that sleep becomes overwhelmingly inviting. My favorite of these places, the best for inducing sleep quickly, is under a rowboat on the northern shore of Lake Superior.
The bays along the shore have small beaches covered with fine, rounded gravel. Cliffs of black basalt and dark red rhyolite rise vertically from the shore, creating cozy rooms enclosed on three sides by rock walls and by the lake on the fourth. Waves hiss up the gravel, then rattle the loose rocks as they retreat. I have napped on those gravel beaches in the warmth of a summer's afternoon sun, tired from just a mile or two of canoeing. The smooth stones shift to fill the hollows under weary limbs, and support a tired paddler better than a mattress.
In the last few years of the 19th century, the US Mail was delivered to the communities on the north shore of Lake Superior by a letter carrier in a rowboat. In the depth of winter, mail came by dogsled up a trail through the woods, and in midsummer a schooner delivered to the isolated coastal towns. Between seasons, as snow melted from the dogsled route but drifting ice floes kept the sailboat in port, a rowboat was the best way to navigate the 90 miles from Duluth to Grand Marais.
The letter carrier was a near-mythic Ojibwe with the English name John Beargrease. He worked for the immigrant family that held the mail delivery contract, then won the contract in his own right. He traveled a lake that routinely sank large ships, and so dominated the dogsled delivery business that the modern Minnesota version of Alaska's Iditarod race is named in Beargrease's honor.
---