Pucker up!
Lemons get a bad squeeze. Here are two recipes to add their sparkle to your dinner.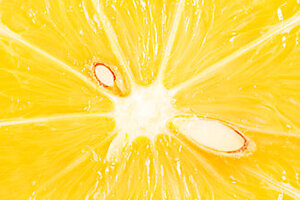 Newscom
Lemons get a bad squeeze. Think about it: Why is a clunker of a car called a lemon? Why isn't it called a kohlrabi? Or a kumquat? Who eats those things anyway? Who even knows what they are? "Hey, Bob. How's the new car?"
"Terrible. It's a real kumquat!"
Works for me. I'm starting a campaign.
Lemons are beautiful. They're the color of the sun on a July day. They are versatile. Half a lemon rind ground up in the kitchen sink garbage disposal makes it fresh as spring. A few grates of lemon zest adds pizazz to salad dressings. And a world without lemon meringue pie? Unthinkable. And what's a hot summer day without a tall, frosty glass of tart lemonade?
I'll never forget the glass of lemonade that saved my life, or so I thought at the time. It was during my late teens while spending a few months hitchhiking through Europe.
This particular day I was working my way down Italy's famous Amalfi Coast. It was blisteringly hot and I had been waiting for a ride for hours and had the thirst of a camel. Finally, a kindly Italian couple picked me up. They didn't speak a word of English, and I was as fluent in Italian as I was in Serbo-Croatian. That didn't stop my new friends from talking to me as I tried to get some rest in the back seat.
We finally pulled into a delightful seaside restaurant outside Positano. Lemonade. That's what I wanted, just lemonade.
All down the Amalfi Coast, among the stucco, pastel-painted homes were lemon groves where the heavy, golden fruit hung on the trees like hundreds of Japanese lanterns.
---