Taking the Tom Sawyer approach
They let go of to-do lists and drifted down river with a guitar and an open schedule.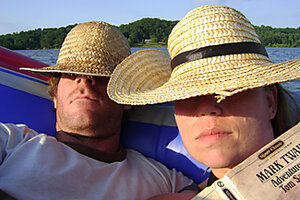 Jenna Fisher
Alex strummed his guitar, our straw hats sat on our heads, the river wound under bridges in front of us and snaked around the hills behind us. We were in the wilds of Tennessee; adventure, beauty, inspiration, and, um, Knoxville surrounded us.
This trip had us going against the current of life's rapid pace to do something a bit unorthodox for grown-ups: float down the Tennessee River in a makeshift rubber rowboat for a week with no agenda and no schedule, just a good friend, a guitar, and a harmonica for entertainment, and a copy of "The Adventures of Tom Sawyer."
Though I consider myself a pretty laid-back kind of gal, as we got closer to putting our raft in the river, I had to fight the desire to make a plan, have a backup, and create a schedule. My goal was to let go of the routine, the deadlines, the to-do lists, and the order that consumed my work life, and let whim lead.
As a first step, I let my friend Alex take over the rowing, and I reached for the book. " [P]art of my plan," Mark Twain began, "has been to try to pleasantly remind adults of what they once were themselves, and of how they felt and thought and talked, and what queer enterprises they sometimes engaged in."
I was ready for some reminding.
---