The name game
With a classroom full of students, remembering each name requires a few memory tricks.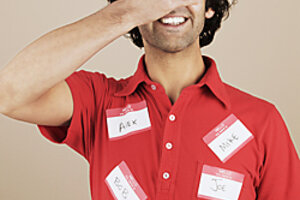 Newscom
I would like to state at the outset that I have a good memory. Very good. Maybe even prodigious. Long term? No problem. I can remember my locker combination from freshman year in high school (34-42-32), my family's telephone number when I was 5, and the license plate number of my father's 1962 Nova (CFX268). Short term? Also no problem. This morning, for breakfast, I had a bagel and cream cheese, a bowl of Rollin' Oats, a cup of Lipton tea, and a banana. An hour ago I was rousing my teenage son, Anton, from bed. (In five minutes I will go up and rouse him again.) Fifteen minutes ago my older son, Alyosha, called to ask if he could borrow a hammer, a saw, and a drill with a 5/32" bit.
So why do I have trouble with names? Whenever I mistake a Jill for a Jane, or a Jack for a Joe (or worse, a Dave for a Jeremiah), I am reminded of my grandmother, who also forgot names and had the most cumbersome system for excavating the right ones: she'd run through the alphabet – out loud – until she struck gold. Once, years ago, she was telling me about a boy she knew who went off to World War II, but his name escaped her. I recall her squinting in frustration, and then, "I think his name was Adam, Bill, Chuck, Dave, Evan, Frank? Frank!"
I haven't yet gotten to this point (I perform the alphabet maneuver in silence), but I do find myself preoccupied with the phenomenon of name-forgetting. As a college teacher, I try to learn every one of my student's names, making mental notes of their physical attributes in order to jog my memory. For example, Stephanie has straight hair (Stephanie/straight, get it?).
Still, in the course of the semester, I find myself struggling. This is especially embarrassing when I am giving a student one-on-one help. As he or she sits next to me, staring down at the material, I find myself repeatedly taking sidelong glances, thinking, "Paul/tall? Don/blond?" And, of course, if that doesn't work, "Alan, Ben, Chad?"
---