Brusquely kind
Her Israeli passport had expired. But her pleas to renew it quickly only met with bluntness – at first.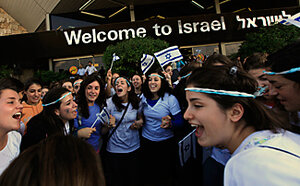 Tsafrir Abayov / AP
I don't realize I've allowed my Israeli passport to expire until I pop over for a family wedding last month. At customs on arrival, where I present my US passport, the official merely says, "Madam, when in Israel you are first an Israeli. If you expect to return home in" – he peers at my ticket – "three days, then you must obtain a new passport immediately."
It is Thursday around noon. From my hotel I go directly to the Interior Ministry and take a No. 27 ticket. I explain to the passports clerk that I hadn't realized my passport had expired. She says, "The clock doesn't move forward overseas?" She asks for my passport photos so I pass her the envelope. She thrusts it back and says, "Take them out." OK, I think to myself; must comply. I ask if my new passport will be ready in time for my Sunday evening return flight. She looks at me and says, "What, I can predict the future? Take a number and ask the manager." Now I'm No. 63.
The manager says, "You must allow 72 hours for processing." I say, "But I must leave in 72 hours. I have two small children waiting for me at home." He says, "Sometimes longer." I say, "Please, can't you expedite matters somehow?" He says, "Look, you come back first thing Sunday morning." Is that a hint of a helpful tone? I ask, "May I call you to check on its status?" He says, "I have time to answer phones?"
It is almost 5 p.m. There is nothing to do but go celebrate the wedding, and wait.
---