In Ghana, no one is a stranger for long
An American in Accra finds the local cooperative spirit a stark contrast to his homeland's love of self-reliance.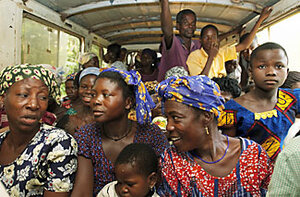 Jacob Silberberg/ Getty Images/ File
While trudging under the cascades of the Wli waterfalls in Ghana's Volta region, I found myself at a standstill. I was attempting to navigate the crushing torrent of white water to a tiny enclave behind it, when the deluge engulfed me like a pair of fizz-colored blinders. As I clung anxiously to the slick rocks underfoot, I spied a phantasmagoria of shimmering figures through the downpour. Seconds later, I was linked arm in arm with a troop of young Ghanaians, all singing – including myself – at the top of their lungs.
As a first-time traveler to Africa, my initial weeks on the continent have followed a similar pattern: I get lost and Ghanaians enthusiastically help me find my way. The city of Accra – where I work as a journalist – is especially difficult to navigate. I constantly get on the wrong bus, arrive at the incorrect ministry, and stumble about searching for landmarks that are camouflaged by the urban mosaic.
Yet whether I need a translator in a local fishing village or a cheap apartment, someone is always there to assist me. Often when I arrive at the bus station on my way home from work, I am greeted by a stranger who cheerfully guides me to my bus. I don't even need to ask for help, it's simply delivered with heaps of goodwill, and it makes me wonder why in America we're so obsessed with doing things on our own.
---