A color-free childhood
Despite her mother's penchant for white, she pushed for a dab of color.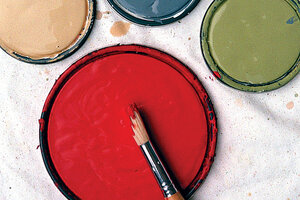 Newscom
My room was blue, like the sky. I could jump on the bed and imagine myself flying.
When my parents moved in, the whole house had been full of color. They spoke of this like they spoke of growing up in the Great Depression, as something to overcome. "Rose!" my mother would exclaim. "Half the rooms in this house were rose!" One by one, they painted each room white. They were about to tackle the blue room when they needed space for a new baby. Me. The smell of paint made my mother feel sick when she was pregnant, so the room stayed blue.
The kitchen also had color, despite their best efforts. Our next-door neighbor worked at Sears and was allowed to take home improperly tinted paint. Their house was always a wild hue. For several glorious years it was a green so bright that Amazon tree frogs might have blended in with it unnoticed. When the afternoon sun hit their house, the green reflected onto the shiny white appliances in Mom's immaculate white kitchen. It was like being in Oz.
Mom installed light-blocking shades, which she began pulling down at 3 every afternoon. There was no place so colorless as home.
When I was 4, my brother left for college and Mom embarked on a frenzy of home improvement. In retrospect, I see she was trying to distract herself from missing her eldest son. At the time, it was a royal pain. Upholstery pins poked out of every chair; the house always smelled like a solvent of some kind and – worst of all – my blue room had to go. Mom told me that blue was for boys. But she had compromise in mind: As a girl, I needed a pink room. I loved my blue room and protested fiercely. But Mom won out. As she opened the paint can, I expected the bright Barbie pink that little girls adore. That's not what was inside. Imagine a single drop of cherry syrup mixed into a large glass of milk.
---