A Shona name for a white child in a tense Zimbabwe
They gave their son, born in Zimbabwe, a Shona name to honor the country and culture and were honored in return.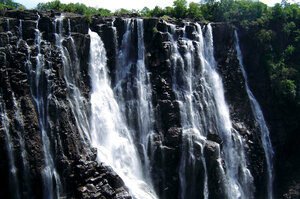 Splash News/Newscom
"Where are you from?" The official in the orange-painted Information Office eyed the three of us suspiciously.
On a rare weekend holiday, we traveled to Chimanimani Village in remote eastern Zimbabwe. My husband wanted to take my son and me to see the Bridal Veil Falls. There was just one problem: The last time he visited was 13 years ago. He had forgotten the way.
We passed a shuttered cafe and the Better Days butchery. Outside a sparsely stocked store, lit only by candles, a woman with a scarf around her head stirred a saucepan of the local mealie-meal (coarse cornmeal) porridge over a fire. She watched us carefully. So did the men lining the supermarket wall.
Suddenly I felt like a stranger in the country I now call home.
"Do you have identity cards? Were you born and bred here?" the official persisted. We'd stumbled into this man's office hoping he might give us directions. Instead, the conversation was rapidly turning into the Zimbabwean Inquisition.
In its heyday, Chimanimani was a tourist haven. Backpackers flocked to the spectacular Chimanimani National Park with its towering peaks; the hardy swam in the cold waters of Tessa's Pool, and the more leisured ate sandwiches on the lawns of the Chimanimani Arms Hotel.
Ten years of shortages, hyperinflation, and political turmoil took their toll on this holiday resort, as on so many others in Zimbabwe. Few Westerners make the five-hour trip from the capital to Chimanimani nowadays.
A white official from the former opposition Movement for Democratic Change party of Prime Minister Morgan Tsvangirai tried to visit last month: He was stopped by armed police at a roadblock just outside the village, threatened, and forced to turn back.
"My husband was born in Zimbabwe," I told the official. "And so was our son, Sam Tinashe."
---