Riding out a desert thunderstorm
As the first drops of rain hit, the family quickly abandoned the truck and ran for shelter from the thunderstorm.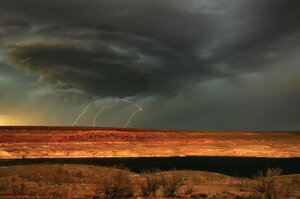 Getty Images
We ran across open ground, then scrambled over broken rock that men had ejected from the mountain long before.
Dad went first, and my three brothers, sister, and I ran close behind. Mom brought up the rear and shooed everyone forward as the rain increased. Lightning and thunder and harder rain darkened the face of the mountain and slid rapidly down toward us. All of us carried parts of our Sunday picnic lunch, grabbed in haste from the truck as we fled the storm.
We entered the abandoned mine shaft, which intruded into the mountain and was large enough for all of us, with room to spare. We turned and watched the storm that had chased us in.
Years before, men had dug the mine shaft straight back into the mountain. In the darkness, the shaft probably turned downward and ran deep into the earth, but I hadn't time, light, nor parental permission to explore. Nor did my imagination stay with the subject, because the storm grew rapidly more dramatic and drew all my attention. Powerful wind scoured the rough, rocky desert landscape in front of the mountain. Rain poured down the wind. Brilliant lightning flashed. Thunder roared and shook the earth.
Lightning struck rocks of the desert. Pieces of fractured rock flew into the air. Lightning struck close to the truck below us, next to the dirt road we had driven up. Dad worried aloud that lightning might hit the truck. Lightning struck close enough that the sharp smell of burned rock strongly penetrated the desert air around us.
I stood with my mouth open at the beauty, the power, and the ear-stunning sounds of the storm. Fierce wind – a loud and wild voice – howled and threatened everything around and changed its sounds every second. Lightning sizzled and crackled with powerful electric sounds far too close to us. Thunder roared so loud it stunned our hearing, then rumbled and echoed away from us and started again. The earth and the mountain vibrated with the power of the storm. I smelled and tasted ozone.
---