Stranded minnows get another go at life
As the swollen river receded, the little minnows were trapped in ever-shrinking puddles, so she scooped them up into her bucket.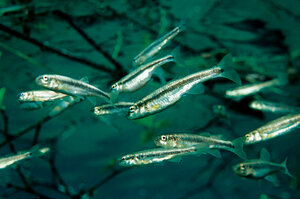 Newscom
The Wabash River cuts diagonally across Indiana before joining the Ohio at the southwest tip of Posey County. Heavy June rains fed the Midwestern waterway lavishly.
Arriving at our part-time home in New Harmony, Ind., in time for Fourth of July celebrations, we found the Wabash invading outlying cornfields, riverside bike paths, and the grounds of the historic town's Athenaeum. The visitor center parking lot had become a semicircular fishing pier.
Fortunately, our brick cottage two blocks away was never threatened, nor were any other structures around town.
Just before the celebratory fireworks were launched from an island of dry land below the Athenaeum, the Wabash began to ebb, leaving behind lake-, pond-, and puddle-size remnants of its invasive arms – broad swaths and pockets of swampy river water that would slowly shrink and disappear in the hot dry days to come.
I began biking the graveled paths again as they gradually re-appeared along the river-banks – sections covered by rippling currents one day were reduced the next to stagnant sloughs. The route was soon fully navigable by bicycle, the few remaining water-filled depressions easily skirted. I forded one elongated puddle the way I'd done as a child, feet tucked up above the pedals from the arcing splash.
And glancing down, I saw them – dozens of minnows parting before my front wheel, darting over the gravel bottom of their ephemeral and shrinking home to the pool's edges. Finding no route of further escape, they swam back to fill the deep middle of the puddle after I'd passed.
---