Traveling light: He had trimmed his belongings to a single suitcase, but what to do with his beloved books
In his great purge he had sold almost everything he owned except his books. Selling them was like saying goodbye to intimate friends.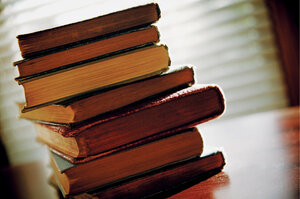 Newscom
It's done.
For months I had been working up the courage to proceed, and I assure you it was a difficult period. Doubts, fears – there were days when I didn't know if I had the strength to carry through. But now, at long last, it's done.
I have sold my books.
Twelve years ago I transferred ownership of almost everything I possessed to people I didn't know. Within just a few weeks, my house, my car, and most of my belongings were sold and I was heading out to see the world with only a passport, a single piece of luggage, and a laptop computer.
At the time I felt no compunction about unburdening myself of home and chattels – "de-accessioning," a curator friend called it – because I felt no genuine connection with most of my possessions. They were mere "things," and I had come to question whether it was I who owned them or they that owned me.
Brave talk, indeed, but – in one respect, at least – a lie. Because back then I just could not bring myself to sell my books.
My books!
In one of his early short stories, William Saroyan tells of living in poverty in Depression-era San Francisco. One day he decided to burn some of his books for heat in his frigid flat, so he set about dividing his small collection into volumes worth saving and those that could be consigned to the flames without qualm.
Yet in the end Saroyan could not do it – he could not sacrifice even the most poorly written book by the most tedious author. They were, after all, still books, and no one who revered words and the individuals who committed them to paper could find it in his heart to turn any bound volume to ashes.
---