A traditional German dish gets a curry make-over
In a home that bridges two cultures, Wiener schnitzel gets a curry make-over to appeal to the spicy palates of the children.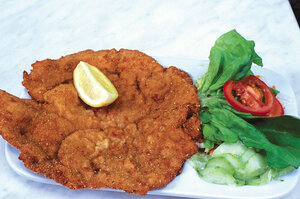 Newscom
The first thing I noticed when I entered Lydia's living room was a beautifully framed photograph of her and her husband on their wedding day. Of course, I had to ask: What happens at a Hindu wedding ceremony when a German marries an Indian?
"The hardest part at the wedding," her husband, Chandu, told me, "was hiding the swastika. In India it's a popular religious symbol, but I did not want my German in-laws to misunderstand why it was there."
Lydia added that she loved dressing in Indian clothes and jewelry, but found it funny that his family thought she looked so Indian. "How is that possible?" she said, "I am so very blond."
We were standing in her spacious, spectacularly clean kitchen. We started prepping for dinner. Lydia planned to make me her favorite childhood dish, Wiener schnitzel.
She began when her husband returned from work. Tall, lean, he bent down to kiss her. And she smiled. They had met in the early 1990s on her birthday. She was working at the front desk of a Brussels hotel when he checked in. Within eight days of asking her out, he had proposed. She thought he was crazy.
"In a city full of glorious coffee bars and cafes," she reminisced, "he took me to Pizza Hut, of all places, to ask me this question!"
"And when she said no," he added, "I took the Pizza Hut menu and wrote down every phone number in the world where she could reach me, in case she changed her mind."
"Now, we begin," said my German friend, bringing me back to her kitchen. "When I was growing up, we ate Wiener schnitzel whenever we went out. It was our burger and fries. It is served in all family-style restaurants in Germany, comfort food that we loved. It is always served with fries and ketchup."
---