Facing down a bully
A mother finds herself a bystander as her young son puts into practice what he's been taught.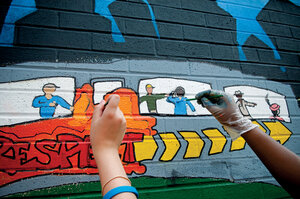 Newscom
A bully took a swing at my 6-year-old last week, and I did something I would never have dreamed possible: I stood still. The biggest leap of faith in my entire life turned out to be not leaping at all, but allowing my son to defend himself as he has been taught.
We stopped at the park for the first time since Quinten began the Gracie Bullyproof program at Norfolk Karate Academy in May. Park aversion happens because Quinten, small for his age and with a slight lisp due to being a late-talker, tends to draw bullies like ants to a picnic. This time he begged me and there was nobody there when we arrived, so I gave in.
Within a few minutes, a nanny arrived with four children, three of them boys around Quinny's age.
So there Quin was, at the helm of the big play ship, when the boys climbed up and immediately announced, "This is our ship. Get off!" Quin held his ground and so got a swift kick in the shins from the boldest boy. I ran up and told the child that was not allowed. I walked over to the nanny to ask for her intervention and just as I sat down with her, across the length of the park, the fight began.
I do not like fights. I do not buy gun toys for any of my four boys and I am a pacifist, but I am bone tired of hearing "boys will be boys," when my boys are bleeding and crying on the ground time after time. So, as I have written in this publication before, the older boys and I began taking Gracie jiu-jitsu, and Quinny started attending Gracie Bullyproof classes.
As the nanny started to make excuses, I heard the kids calling Quin names. I heard Quin give the programmed Bullyproof responses: "Don't call me that. I don't want to have to fight, but if you are challenging me to a fight I am not afraid of you. Can't we just stop this?" To which the bold one responded, "Well, I do want to fight!"
I jumped to my feet, but nothing happened. Quinny called to me, "He said he wants to fight, but he isn't, so yea!" That's when the other kid took a run at Quin and swung a haymaker punch right at my baby's face.
---