A Taste of Place: Exploring the Vermont Cheese Trail
Cheese from the green mountain state is rich with flavors of clover and rain.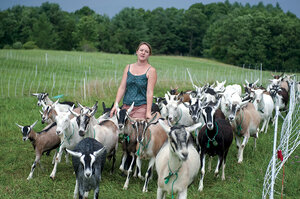 Joanne Ciccarello/Staff
In Vermont you can smell the color green. The majestic pines and the clover-filled meadows infuse the air with an aroma conjuring up nourishment and quiet. In the distance, the edge of a storm cloud took shape, making its way toward me. I ignored it while meandering the gravel roads, making a couple of stops on the Vermont Cheese Trail.
"The taste of a place" – I heard many variations on that expression from dairy farmers.
According to Shelburne Farms cheesemonger Nat Bacon, what distinguishes farmstead cheeses (produced entirely on the farm) is a combination of climate, topography, and vegetation. The farm, located on the edge of Lake Champlain, is a lush site with abundant fields. The herd grazes on grasses that contribute to the flavor and texture of the cows' milk. Farther down the road, Fat Toad Farm co-owner Calley Hastings, who just loves goats, uses a movable fence to rotate grazing for the same reason. I arrived at her farm just as the storm caught up with me. As we sat down to chat, a crack of thunder shattered the Vermont calm.
The air was pungent with green. Blades of grass glistened with raindrops as the smell of the earth rose up. With a block of cheddar and a tub of goat cheesekeeping me company, I made my way back to Boston. Now I understood "a taste of place." The ingredients for cheese are the same all over the world. Milk and salt. But as I bit into the cheddar and then the goat cheese, the underlying flavor was unmistakable – green.
---