The dog that never was
Despite the 'Beware of Dog' sign, no canine – friendly or otherwise – managed to take up residence.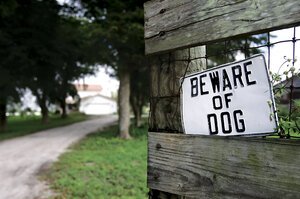 Newscom
We didn't have a dog, but my father, a practical man, decided not to remove the "Beware of Dog" sign that the house's previous owners had left on the driveway gate. We were transplants twice over – he and my mother had come from Taiwan to the United States; his now-expanded family of five had moved from New England to Los Angeles – and here, after all those miles traveled and paychecks saved, we would make our home. Dad found it sensible to have strangers believing that a creature of instinct was standing guard.
What I really wanted, though, was a puppy. I bothered my parents about it to no end, thinking that the sign should reflect some aspect of reality – if not the beware part, then at least the dog. So my father must have figured he'd gotten a break when, one day, while in the car returning from a swimming lesson, my brothers and I spotted a tortoise crawling along the sidewalk. We clambered out and gathered around. He was about the size of a dinner plate. A slow-moving, noiseless, virtually maintenance-free animal, appearing on our way home from the Y. My father looked skyward. It must have been willed. He grasped the shell at three and nine o'clock, like a steering wheel, and set the creature in the back of the station wagon.
---