Learning how to listen
As the sound of silence disappears, a mother embarks on a quest to find quiet moments.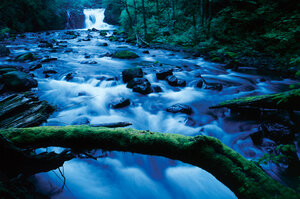 Newscom
My world has gotten a lot louder lately. My 2-year-old son, Ezra, just discovered noise.
"Airplane, airplane, airplane." He gestures toward the sky until I repeat, "Airplane."
"Car!" He interrupts the story I'm reading and spins toward the window as a Volvo station wagon rolls by. "Phone, phone, phone," he says as we walk through the grocery store and hear cellphones chirping.
Usually I'm blocking out these sounds. I suppose it's a survival mechanism that helps me live in a world full of obnoxious, cacophonous noises, because now that Ezra's pointing them out to me, I'm longing for silence.
I'm not the only one. Gordon Hempton, an acoustic ecologist, travels the world recording natural soundscapes, and he's been spreading some alarming news: Natural silence is going extinct.
"In the last 30 years, I've found it nearly impossible in the United States to experience 15 minutes or longer where there's not some kind of noise disruption in the background," Mr. Hempton explained in a recent radio interview.
A couple weeks after Ezra starts identifying sounds, my sister announces she's coming for a visit and wants to go for a hike. "As long as it's somewhere quiet," I reply.
We choose McDowell Creek Falls, which is an hour from my house in Eugene, Ore. We turn off I-5 and head down a country road. The farmhouses thin; the road narrows; Douglas firs, Western hemlocks, and moss-covered big leaf maples crowd in. A stream babbles on our right. I can almost taste the silence.
---