Hungry for books
In Zimbabwe, a police officer's request at a security checkpoint demonstrated his passion for reading.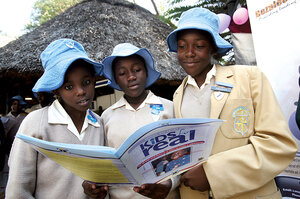 Desmond Kwande/AFP/Getty Images/Newscom/File
The policeman peered in through the open window of our car. "Can I borrow...?" he began. My heart sank.
This was our sixth police checkpoint in an hour. We were in Marange district, Zimbabwe's eastern diamond heartland. The sand, silhouetted baobabs, and the ever-present security forces made it an eerie place.
Diamonds were first found in the area in 2006, sparking a massive gem rush. Students threw schoolbooks into the bushes in their hurry to dig, their teachers following them in a crazed search for instant riches.
In late 2008, President Robert Mugabe ordered a controversial military clampdown to reassert state control. The authorities have been battling ever since to get the diamonds certified blood-free. Foreigners venturing into the area are viewed with suspicion: They might be diamond buyers or illegal dealers.
With the policeman's eyes upon me, I steeled myself. I knew that like most of Zimbabwe's civil servants, policemen are badly underpaid. (In fact, public service unions are clamoring for a share of the state's diamond wealth to be put into long overdue salary increases.)
"... one of your books?" the policeman finished. He pointed to the dashboard.
My books! I'd almost forgotten them. Before leaving home, I had bundled three paperbacks into the car, hoping to while away a hot journey with a pleasant read.
New and once-read books have reappeared on Zimbabwe's flea markets and in city bookshops since a coalition government was formed between longtime President Mugabe and former opposition leader Morgan Tsvangirai in February 2009, putting a tentative stop to 10 years of economic downturn. Perhaps understandably, motivational books now appear to be the biggest sellers.
---