On a mission to restore the Louisiana bayou
Retired dairy farmers, they were no strangers to muck as they helped revive the marsh of Louisiana after Hurricane Katrina and the Gulf oil spill.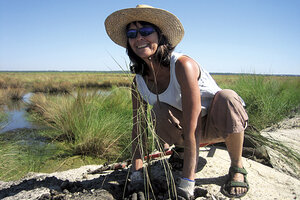 Courtesy of Cassandra Miller
The first time we waded out through the soft, yielding mud of the new marsh platform, Charlie, a dedicated landlubber, shot me a glance. "Just what have you gotten us into?" Two days earlier we'd been comfortably at home on the firm, dry ground of the landlocked Midwest. Now we were dragging burlap sacks of seedlings through murky waters amid crabs, shrimp, and, we were told, the occasional small alligator.
We'd decided to answer a call from the Louisiana coast for able-bodied adults to help restore some of the marsh lost to hurricane Katrina five years ago – volunteers who wouldn't mind getting down and dirty at an offshore mud flat, planting marsh hay on the beaches, and smooth marsh cordgrass out in the shallows. As retired dairy farmers we were no strangers to muck and could plant anything in our sleep. Having never seen the Louisiana bayou, and sharing a weakness for rail travel with Charlie, I signed us up.
We boarded Am­trak's "City of New Or­leans" in central Illinois and rolled blissfully through the night and following morning to its southern terminus in The Big Easy. A day later we were motoring in airboats to the offshore site in the Big Branch National Wildlife Refuge directly north of New Orleans, across Lake Pontchartrain; then wallowing on the marsh-in-the-making while inserting root plugs to hold the mud in place and create new wildlife habitat.
---