My own March Madness memory
Two hard-playing hoopsters knocked heads before forging a friendship.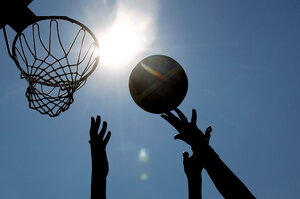 Reuters
It's funny how friendships begin.
One day on a basketball court in Philly I was chasing after a loose ball, and the opponent going after it with me swung an elbow that caught my lip.
I wiped away the blood with the shirt-tail of my jersey, but I wanted payback. With 15 seconds remaining in the game and the score tied at 78, I had the ball in my hands. The same guy bellied up hard on defense. I went up for the game-winning jump shot. As he leaped to block my shot, I fended him off with my left forearm and released the ball at the buzzer. Swish. Walking off the court, he came up to me, and introduced himself.
"Smooth game you got," he said.
"Can't say the same," I said.
"Sorry about the lip."
"Forget about it."
We went for a Coke.
Other than basketball, Flash Gordon and I had nothing else in common.
Flash grew up in a home for boys – his father had run off when he was 4 or 5 and his mother was too sick to rear him. The boys' home wasn't the cleanest or quietest place. The food didn't put a warm, fuzzy feeling in his belly. But there was a tiny gym on the third floor. Basketball became his best friend. On the other hand, I had it middle-class comfortable: concerned parents, a hot dinner every night, a car at my beckoning. Any problems were illusions.
Basketball was my passion, too. So, for Flash and me, there was never any reason to fuss with metaphysics when a game could be had. Basketball became an overarching theology that seemed to order things in our lives.
The court was the one place where we were both flawlessly at ease, where we could define ourselves in a reverse spin dribble past a defender, or in a high-arching, freewheeling spinning jump shot that dropped through the basket as if some geometric justice were being carried out.
We played together everywhere: All around Philly, in the Poconos, at the Jersey Shore, up on Cape Cod bay, even in Quebec in Canada. We became well-known as Flash Gordon and Billy the Kid. Especially the game this particular March night when we would write our basketball oeuvre as teammates.
---