In a league of their own
An American ventures into Kenyan marathoner territory.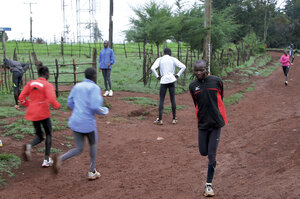 Kelsey Timmerman
"When I'm running," says Dorcas, a young female runner, "I feel like I'm flying. But when you are not in shape, you feel really difficult."
I feel "really difficult" ... and like tripping Dorcas who is running a few steps ahead of me.
I was scheduled to run the Indianapolis Mini-Marathon – all 13.1 miles of it. But I was called to Kenya on a writing assignment and I didn't want my months of training – OK, weeks of training – to go to waste. So I thought, for some crazy reason, that it would be fun to organize a half-marathon of my own design here at 8,000 feet in Iten, Kenya. Iten is a village in the western highlands that just might have the highest concentration of elite athletes in the world.
This was not one of my better ideas.
"Go ahead and run your normal pace," I told Dorcas and Richard, the only two runners I could convince to spend their afternoon training session with me. "I want to see what that's like."
They exchanged a knowing glance that I've seen before. The cook and the housekeeper at my guesthouse shared it with each other when I told them my plans to complete a half marathon, and so did the guard and the groundskeeper. If there weren't bets on whether I'd make it or not, I'd be surprised.
Richard is my age, 31. He's a middle-distance runner who has won races in the Netherlands, Israel, and Germany. Whether standing or sitting, his head is pitched forward a bit as if saying to his body, "Let's go! I'll leave without you."
---