Echoes of the Balkans
In a Swedish forest bursting with berries, a chance encounter brings back sobering memories.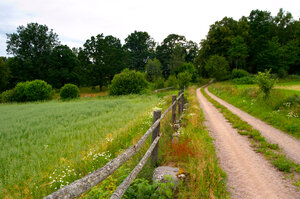 Newscom
Imagine a forest filled with candy, gumdrops glittering in sunlight falling between the tall pine trees.
This is Sweden in the summer, at least for me. For under the (almost) midnight sun, across vast expanses of this empty, wooded land, blueberries are the ground cover and raspberries the weeds, with wild strawberries tucked into corners like buried treasure.
My wife, two children, and I walk through forests of pine and birch and fill buckets with blueberries just two hours north of Stockholm. We decorate birthday cakes with fresh raspberries and cover our vintage wood stoves with lovingly cleaned chanterelle mushrooms. I have no special berry recipes because I love them too much. I simply eat them by the handful, maybe drop a few on my oatmeal.
In Sweden you can walk across almost any forest and pick almost any blueberry. The expansive right of public access, or allemansrätten, runs back to the Middle Ages and deep into the Swedish soul. It gives everyone the right to roam, common courtesy keeping you away from fence lines and houses. When I moved to Sweden, the lack of barbed wire and "No Trespassing" signs was revolutionary, the forest free in a subtle way I'd never known before.
Then a chance encounter last summer reminded me of my Balkan past. And now I hesitate before I enter the woods.
One afternoon, pushing a stroller packed with a toddler, a baby, and some recycling, I wandered into the woods on an exquisite summer day – with the cool breeze, the filtered crystalline light and, above all, the berries on the ground. As we neared the main road, we came upon about 12 men and women eating sardines near two beat-up white cars.
---