Dairy farm chronicles
Pounds of milk, births, plantings, and passings – the wall calendar recorded them all.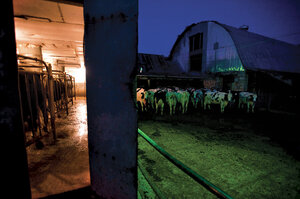 Ann Hermes/Staff
When I read of James Herriot's death on Feb. 23, 1994, I put aside chores for a time and paid my respects. Among the daily notations of calvings, cows in heat, breedings, and milk weights, a more carefully penned "Farewell James Herriot" fills in one wintry space of that year's milk-room calendar.
It felt like the right place to remember the Yorkshire vet who tended animals on small farms like ours before and after becoming a popular author. The calendar – a safe, accessible repository for the all-important details and noteworthy events connected to running our dairy – had presence. It hung out of splash range of the sinks, just above the countertop where we set gloves and coffee cups.
It was impossible not to look over the month on display, and hard to resist flipping back to previous months as I breakfasted. The color photos of broad-muscled Belgians, Percherons, Suffolks, and shires at their seasonal labors (we used the Draft Horse Calendar from Mischka Farm in Whitewater, Wis.) seemed to prime us for the day's work, especially if it involved our own draft animals.
The large date squares on this calendar allowed several brief daily entries. The milk shipment, in pounds, occupied the lower right corner, leaving ample space for other jottings. One April 1, for example, was triply notable: "Gwen's birthday," "potatoes and onions in," and "Red is bred." A single run-on sentence sprawled across Nov. 25 and 26 of that year: "Geese moving in wave after wave, what a beautiful sight!"
---