Navigating L.A.'s freeways at 15 miles per hour
A Volkswagon Beetle limps along as 18-wheelers blast past indignantly.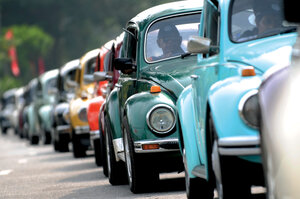 AFP/Newscom/File
The carpeted space behind the Volkswagen Beetle's back seat was a perfect place for our baby, who would sleep as long as the engine was running right underneath him. He must have thought he was still in his mother's womb and the engine was her heartbeat.
One Sunday, still new to southern California, we drove all the way up to Big Bear just to see a body of water larger than a swimming pool. All the freeways going north, south, east, and west came together in a Gordian knot called "The Interchange." Like Tarzan, I swung from freeway to freeway – over to the right in order to turn left and over to the left in order to turn right – trying to read direction signs as we whirled around and over and up and down and miraculously came out on the way to San Bernardino.
It was a vast relief to turn onto a two-lane road out of the smoggy pandemonium and into the soothing greenery of nature. We were delighted that such beauty could survive in that megalopo-lis spreading its tentacles all over Los Angeles County, north into Ventura County, east into Riverside County, and south into Orange County.
---