'Swag' joins waste, fraud, and abuse
A presidential order calling for the government to trim spending has cast the spotlight on an old term with a new meaning.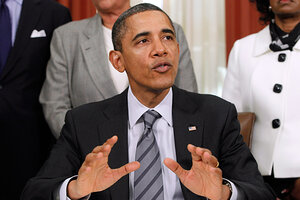 Charles Dharapak/AP
Swag made headlines the other day – no, I don't mean the kind of swag that has put away Bernard Madoff; I mean the kind that President Obama wants the federal government to buy less of.
As the "On The Money" blog at The Hill, the Capitol Hill newspaper, put it in a preview post, "President Obama is set to unveil an executive order on Wednesday aimed at cutting wasteful spending on excess travel, printing, cell phones and government 'swag.' "
The swag under fire includes plaques, clothing, mugs, and other agency-identified items distributed to employees.
And he did indeed order a 20 percent reduction on such spending; the cuts are projected to add up to $4 billion in savings.
No sooner had the president issued his order than resistance was felt from what "On The Money" called "the 'swag' industry." The blog quoted Tim Andrews of the Advertising Specialty Institute, which represents the swag, er, promotional products industry: "We certainly wouldn't want people to stop using promotional products, if they can be used efficiently and effectively, in a knee-jerk way and cost jobs."
There may be no American industry so trivial that it lacks lobbyists in Washington. The news reports of the presidential order featured primarily two terms: swag and tchotchkes. They sound like a stand-up comedy duo, no? "Swag and Tchotchkes." Can you tell which is the straight man?
Swag came into English around the 1520s, according to the Online Etymology Dictionary, as a verb meaning "to move heavily or unsteadily." The word appeared as a noun in the late 18th century, meaning "an ornamental festoon." Nowadays swag is a term for an arrangement of evergreens attached to a front door at Christmas – an alternative to a wreath.
---