A labor of logs
As small farm buildings succumb to age and neglect, their sturdy timbers find a new life.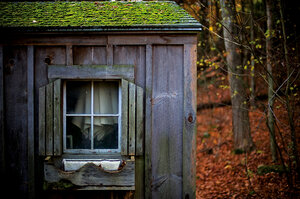 Ann Hermes/Staff/File
Whether it was the tortured screech of the nail or my accompanying satisfied grunt that Charlie most appreciated, I don't know. With his own hammer and pry bar poised above a neighboring two-by-four he chuckled and yelped into the snow-spangled air, "Oh, this is fun!"
In a sweat, despite the late November flurry, I paused to agree and sat back on my haunches for a rest from one of our seasonal labors – teasing out the salvageable remains of a once solid and functional little farm building.
We spot them as we travel about old back roads – empty and in various stages of neglect and disintegration, often half hidden in overgrown fields. They are the log and timber-frame barns, sheds, corncribs, and lean-tos, idiosyncratically styled from local timbers by a fading generation of small farmers. Once sturdy shelters for tools, hay, or livestock (and sites perhaps for the occasional rural tryst) they now stand or lean idle, having lost their purpose and protectors.
With small farms going out like lights across southern Indiana, there is less and less need for the handy outbuilding, and no one to patch roofs, nail back siding, shore up storm damage, and otherwise protect inner surfaces and seams from wind and rain. Whenever we can, we catch one on its way to ruin and finish the job quick and clean before decay claims everything.
"Ummm," Charlie breaks a companionable silence. "There's some good lumber left in that one."
I brake and look toward the shed he has spotted in the brambles and weeds. We call an absentee landowner – occasionally now, one calls us – and a deal is made. Late in the year, when the hay is in, the gardens spent, and time flowers, we pack hammers, pry bars, and cat's claws, sandwiches, gloves, and a thermos of hot honeyed tea for a day of dismantling.
---