Suave's lesson in 'soft skills'
The secret of success may be to act more like this Dominican street dog.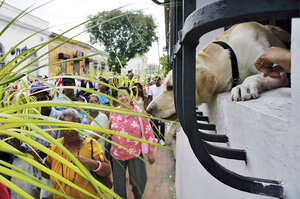 Eduardo Munoz/Reuters/File
The welcome was mixed when my daughter Brennan came home from serving in the Peace Corps in the Dominican Republic. We were thrilled to see our daughter, but what she brought with her carried an odor so toxic we could barely breathe.
My husband was furious when he saw the source – a street dog named Suave (SWA-vey), a dirty little puppy full of fleas and ticks that Brennan had found. She'd wrapped him in a newspaper and brought him home to live with us.
Once we got Suave shampooed, we looked around and asked, "What's next?" I was just retiring from the judiciary and beginning a new career as a lawyer, and my husband worked, too.
What did happen next was unexpected. Suave wasn't a little Yorkie waiting to be pampered and welcomed onto your lap. He was a tough survivor. And because of that, Suave soon underscored for me some important lessons about what it takes to be successful.
In the islands, Suave is known as a "potcake," a name that comes from what locals call the combination of beans and rice that is scraped from the bottom of cooking pots and often fed to strays. In the Caribbean, potcakes are very friendly. They have to be, in order to survive.
Whatever you feed potcakes – from leftover shrimp to leftover oatmeal – they accept with gusto. I've seen Suave devour both Science Diet dog food and white rice mixed with bacon grease. Either way, he was just a happy puppy.
---