Home, restored
Farm rhythms are easily recaptured, and a tree falls with compassion.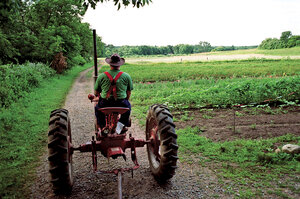 John Nordell/The Christian Science Monitor/File
Dairy farming makes for a homebound life, and though Charlie and I have traveled over the years, it has generally been in turns. I'd drive or fly east for a visit with family while he did the twice-a-day milking. He'd buy a train ticket for a two-week exploration of distant states, and I'd fill the tank each day.
As I strapped the Surge buckets under our Holstein, Brown Swiss, and Guernsey benefactors, I'd hope that nothing major broke down on my mechanically inept watch. I was good with the cows and draft horses, but not to be counted on for maintaining the nuts and bolts of the business – the vacuum pump motor and pressure gauge, the all-important metal pulsators, not to mention the plumbing, wiring, gates, and pasture fencing. We joked that the farm, left solely in my care for long, would become a distant memory for a postproduction herd of widely roaming cows.
When I'd return home from my trips I'd almost always see improvements here and there – a newly hung gate, an electric outlet over the feed bin, a door that no longer stuck.
Charlie, back from his breaks, would cast a critical eye at, say, a repair to a stall partition done with baling twine, or a sawhorse barricade fronting a listing fence, and roll up his sleeves. For the most part, though, we both stayed put, enjoying the daily rhythms of a lifestyle we'd each chosen as our second careers, carrying on through the 1980s and '90s and into the 21st century.
Today, with the land, barns, and house leased to a young friend with a new herd-share business, Charlie and I are free to spend long stretches of time in the small home we restored in Indiana. But as part of Jason's lease contract, we reserved the right to return now and then to the farm's cabin – a one-room living space with a nearby timber-frame library, barn, and workshop – set amid a grove of sugar maples at the edge of the back pasture a half mile from the house and road. At the heart of things is the outdoor hearth we use each spring to boil the sap we collect to syrup. The quasi-pioneer village has long been our special retreat.
---