Feathered affection
A city girl discovers the gift of chickens.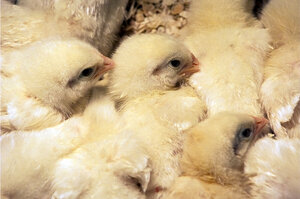 Melanie Stetson Freeman/Staff/File
Sunrise touches my frost-rimed deck. Steam rises off the hot tub and drifts toward the chicken coop below, where a drawl of "prock, prock, prooooock" breaks the silence. The sound comforts like a mother's lullaby.
My four hens aren't chicks anymore, yet I still call to them with a soothing, "Here, chicky, chicky" as I tap the old ice-cream container filled with sunflower seeds. Across our large yard, their heads lift – two rust-colored, one gray and white speckled, the fourth a golden halo. Then my favorite Rhode Island Red collects her legs under her for a pell-mell dash toward me. The others follow, more cautious, less enthusiastic, but gathering determination as their momentum propels them to a screeching halt at my feet. The leader, Henny Penny, allows me to caress her soft feathers. She clucks approvingly and pecks at my shoe. I offer the seeds, and she buries her beak in them.
Each evening, with some coaxing, I lead the hens back to their chicken tractor (a movable, floorless coop) and herd them inside. Peep, the golden Americana, is skittish as usual, and I have to chase her until she finally gives up and squats, frozen in place. She tolerates my hands tucking her against my chest. She stays stiff until I place her gently inside the wire prison. "It's for your own good," I tell them, "so predators can't get you." But I know if I let them, they'd roost till dawn in the trees and probably be fine.
Still, I can't let them range freely all the time. They might decide to lay eggs down by the creek or under the deck, and eggs are the reason we have the hens, aren't they?
The chicken idea began as a 4-H project for my 10-year-old son, Tyson, who wasn't especially fond of animals but became enamored of chickens when he got to collect a neighbor's chicken eggs while the family went on vacation. So my son and husband researched chicken houses and decided on the mobile tractor, which was supposed to have wheels but ended up with skis. We heave-ho the structure to a new location every week, fertilizing meadow grass and saving on cleaning.
---