Learning a new way to ride
A father's scheduled efficiency runs up against his daughter's meandering approach.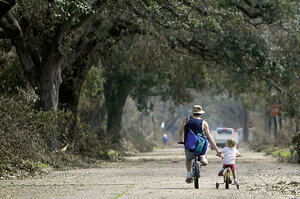 Mayra Beltran/AP
"Hey Dad, slow down!"
That's my daughter calling. Though I am moving at what I consider a snail's pace, she has fallen at least 30 feet behind. Checking over one shoulder, I see a pair of young legs moving in a way that cannot be having much effect on her forward motion. Her feet trace lazy circles in the air.
"Dad, you're going too fast!"
She'd recently expressed interest in riding more. We live in a small city with a mild climate, and bicycles are a popular transportation choice here. They are my main means of travel, so I was thrilled at her announcement. She would soon, I was certain, learn how easy it is to get around this way, how fast she can maneuver on two wheels. Bike excursions are often quicker, door to door, than bus or cab or car trips are.
Much to my surprise, none of this mattered to her.
On one of our first trips together, I was concentrating on the route ahead – anticipating turns, gauging our estimated arrival time against the numbers on my watch – when her voice suddenly sounded on my right. "Hey Dad, wanna know a riddle?"
My child had pulled alongside me. "It's a good one," she grinned. And then, before I had a chance to explain how inappropriate this was, how neither of us should be telling jokes while riding, how we should be focused on the road, on pedaling, on reaching our destination as soon as we could, she started: "What lasts forever but never dies?"
This is how it's been. In the course of our journeys I have heard tongue twisters and song lyrics. She has shared stories from the past, hopes for the future. I have been challenged to pedal backward, to stretch legs out on both sides, to bump through every pothole on the block before dance class.
None of this has been dangerous, mind you. My daughter does not ride without proper care or attention. She pulls even with me, for instance, only on wide, empty streets. When the occasional car appears, she quietly slips behind me and holds both eyes to the road. As soon as conditions of basic safety are met, though ...
---