The Syria I knew
A long-ago encounter shows what stays, what fades.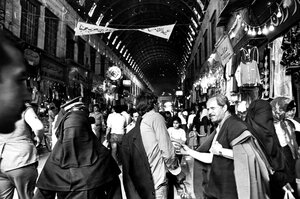 R. Norman Matheny/The Christian Science Monitor
Latakia, coastal Syria, September 1982: It was twilight, night coming fast. I asked the clerk about buses to Damascus. One, he said, was leaving now. Across the yard, a mechanical brute coughed smoke and struggled for second gear.
Jumping onto slow-moving public transportation was a skill I'd honed after three months in Cairo. I sprinted over, ran alongside, and leapt for the open rear door.
Safely aboard, I stood and swayed, eyes adjusting to the unlit interior, hoping for a seat. No luck.
Then a young man in the last row smiled and made space for me.
Only when I sat down did I see that all the passengers around me wore uniforms. The bus was full of soldiers. They stared at the puzzled foreigner.
I told the smiling young man I thought this was the bus to Damascus.
It was, he said. The Army had commandeered it. Training exercises, he said. He introduced himself: Khalid was his name. He showed me family photos. He had two infant boys.
Then an officer came and sat beside me. No smile, no introductions. He handled security for the unit, he announced curtly, and had questions for me. What business did I have here, prying information from the Syrian Armed Forces?
I was in for a long night.
---