Jousting with ice floes: an adventurous cruise in the far north
Passengers on an 'Arctic expedition' cruise in late June hoped to see ice. And did they!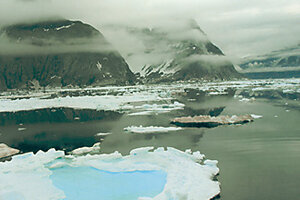 Lawrence Millman
As far as the eye could see there was nothing but ice, and our ship – the 328-foot Lyubov Orlova – was having some difficulty maneuvering either through it or around it.
Getting stuck in ice had not been included in our itinerary. Cruise North, a relatively new company owned by Makivik, a Quebec Inuit corporation, had advertised the trip as an opportunity to explore the north coast of Labrador as well as Torngat Mountains National Park, Canada's newest national park. I'd been almost everywhere in Labrador except for the Torngats, so I jumped at the prospect of seeing the park's spectacular mountains (the highest in Canada east of the Rockies) and its jagged fjords.
The Orlova had departed from Goose Bay, Labrador, on a day not unlike a summer day in New England. In the distance, a heat haze had reduced the Mealy Mountains to a smoky blue silhouette against an equally smoky sky.
In the evening, we attended a reception with the captain, who, along with the crew and most of the kitchen staff, was Ukrainian.
After Captain Rudenko welcomed us to the ship, a passenger asked him whether we would encounter any ice on the trip. His answer: "Maybe." He added that there were reports of thick ice along the coast, but if the wind shifted from west to east, as it frequently did, the ice would be blown out to sea.
Several of the ship's 40 passengers groaned audibly. They'd actually hoped to encounter ice on the trip. Never groan for something, or you might get it....
The next morning, the Orlova was in the open Atlantic, steaming northwest to the towns of Makkovik and Hopedale. At first we only saw a solitary iceberg, its twin turquoise-white domes glistening in the bright sunlight.
---