Igauzú Falls – a roar to remember
Its 275 waterfalls – spanning the Argentina-Brazil border – create a raging rush as water plummets more than 200 feet off cliffs.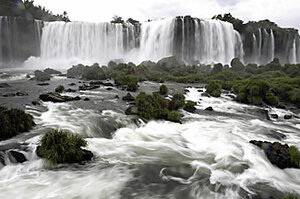 Juan Mabromata/AFP/Getty Images
Iguazú National Park, Argentina
We had spent an hour silently walking along a boardwalk straddling the river at Iguazú Falls, with only the glimmer of the moon to light the passage. It was so difficult to discern anything in the distance – there was the outline of a palm tree here, the bubble of the river there – that I had trouble understanding what all the hype was about.
The moment I landed in Puerto Iguazú, Argentina, earlier that afternoon, the chatter about the moon's cycle started: There was a full moon! The nighttime treks in this national park spanning the border of Argentina and Brazil are offered only five times each month, and bad weather can easily get in the way. This day was clear and promised to turn into a balmy evening. I'm generally thrilled about any activity that involves moonlight and nature in the same breath, so I signed up.
But now I was thinking, "What's the point?" Full moon or not, it wasn't easy to see. Still, I was enjoying the sweet scent of the evening air, so refreshing after the smog-filled life in my current home, Mexico City. I walked along with my group almost in a meditative state, when all of a sudden a raging roar, which seemed to come from nowhere, startled us. Welcome to "Devil's Throat," the fiercest cascade in the park. It was then that I realized this tour is not about sight, it is about sound – the gush of thousands and thousands of cubic feet of water per second plummeting down a 250-foot abyss.
Iguazú National Park sits on a massive plateau formed about 150 million years ago by basaltic lava. The river flows from mountains hundreds of miles to the east until it drops off into a series of some 275 falls, depending on the season, that form a semicircle spanning about 1-1/2 miles. Most of it sits in Argentina; Brazil also claims a share of this wonder.
---