Amsterdam art, off the beaten path
Rembrandt and Vermeer, of course. But this city's art treasures hardly end there.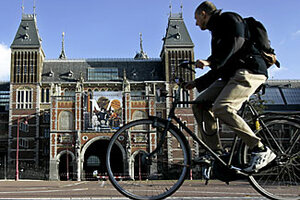 Peter Dejong
Like fans at a rock concert, a friend and I recently stood elbow-to-elbow with throngs of fellow art lovers at the Rijksmuseum, trying to catch glimpses of masterpieces by those 17th-century superstars, Rembrandt and Vermeer. Extensive renovations, slated for completion in 2010, have greatly limited gallery space but not attendance, which hit 1.2 million last year. We took refuge under a shady oak tree in nearby Vondelpark, maps spread out, searching for a more relaxed way to experience the city's art. Happily, we discovered a collection of smaller venues whose ambience inspires rather than overwhelms. Here are our favorites:
De Nieuwe Kerk
After a fire gutted De Nieuwe Kerk (Dutch for "New Church") in 1645, it was restored to its former grandeur with a towering carved wood pulpit, striking stained-glass windows, and a cherub-adorned pipe organ, the largest in the Netherlands. William I chose De Nieuwe Kerk for his investiture in 1815, and his successors have all done the same, establishing De Nieuwe Kerk as the country's Westminster Abbey.
Its ceremonial importance and splendid interior create a memorable gallery for art exhibits. In late July, "Seven Centuries Black" will explores the multitude of black characters in Flemish and Dutch paintings, from angels and ordinary people to kings and queens. Among the noteworthy paintings in this exhibit will be Rembrandt's "The Baptism of the Eunuch" and Jan Mostaert's "Portrait of an African Man" (www.nieuwekerk.nl).
---