Castles around every curve
On the trail of the medieval Cathars in Languedoc-Roussillon, France.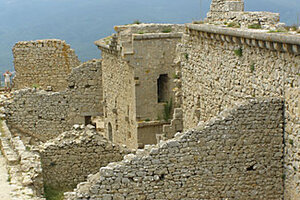 Jerry Lanson
As we drive southeast of this restored medieval village on the narrow, two-lane D611, triangular signs with images of falling black boulders line the route. I'm never quite sure how to guard against these rock slides, but the signs do cause me to grip the wheel of our gray, puttering Ford Fiesta with both hands.
This is windblown, hardscrabble country with outcroppings of crumbling rock and trickling canyon creeks reminiscent of the dry eastern slope of the Colorado Rockies. Although France has a dozen times more people than Colorado in a land mass less than twice its size, here in the Aude region of Languedoc-Roussillon, you can drive for miles and see little sign of life other than patches of thirsty vineyard or the odd hand-lettered sign admonishing drivers that "Jesus t'aime (Jesus loves you)."
Riding shotgun, my wife, Kathy, pores over the region's road map. "I love these little roads with no center line," she says.
Sure thing.
We turn west onto D14 and the land gets hillier, more forested, more dramatic. This is the land where, in the first half of the 13th century, Christian Crusaders massacred members of a breakaway religious group called the Cathars, and where, during the four centuries that followed, French garrisons guarded against invasions from the south.
---