A family vacation to Vietnam
Taking children to a developing country takes planning but is rewarding.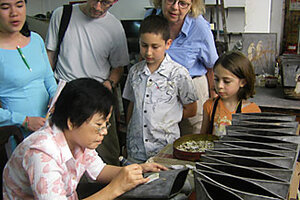 Cathryn J. Prince
HO CHI MINH CITY, Vietnam
When I told friends that my husband and I planned to travel to Vietnam with our two young children, I received many surprised looks. They couldn't understand why we'd want to visit a tropical country in the height of summer – a place where you're cautioned to brush your teeth with bottled water.
The reason for the trip comes from a deeply personal need to travel to the place where my father served as a flight surgeon in the US Air Force from 1962 to 1964.
Our itinerary included Hanoi, Hue, Da Nang, Da Lat, Nha Trang, and Saigon. We wanted it to be an emotionally and culturally rewarding trip.
However, as we began our planning, we discovered a dearth of websites geared toward families vacationing in developing countries. So we talked with people who had visited similar countries and who warned us of possible pitfalls: from chaos in the streets to the possibility of various food-borne illnesses.
But we remained undeterred about our trip. Sure, we had concerns about the flights, the food, and even fatigue, but leaving Nathan, 10, and Zoë, 7, at home never entered our minds.
Overall, we found Vietnam to be incredibly child-friendly. Many Vietnamese – from students at the Temple of Literature in Hanoi to the vendors in Da Lat – asked to have their photo taken with Nathan and Zoë. At first my husband and I were wary, but when our tour guide explained people were excited to see Western children, particularly American children, we relaxed and relished the interaction.
---