Volunteer vacations devoted to animals
Americans give their spare time to help creatures great and small.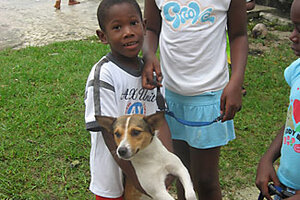 Courtesy of World Vets
Kaitlyn Stone was searching for a way to help animals when she spotted an online ad for World Vets.
The organization, which provides free veterinary services around the globe, needed volunteers to assist with a week-long spay-neuter project in Loreto, Mexico, a small fishing village on the Sea of Cortez.
Even though Ms. Stone, a junior at the University of New Hampshire in Durham, had never flown alone or visited a foreign country, the idea instantly appealed to her.
"I felt this was the perfect way to try something new while doing the thing I love – helping animals," she says.
Stone isn't the only animal lover fueled by a desire to make a difference. Instead of sunning poolside, animal enthusiasts are using their vacation time to help needy pets in the United States and abroad.
World Vets, for instance, regularly sends volunteers and professionals to places that have limited or no access to veterinary care.
"We have an entire mobile hospital that we can pack up into four duffle bags and take with us and set up anyplace," says the organization's director, Cathy King.
Destinations are picked based on requests the group receives from animal-welfare groups in those areas. Most projects involve sterilization clinics coupled with basic wellness care and surgical training for local veterinarians.
---