Airline Ambassadors: Taking flight on a mission
This and other 'voluntourism' networks offer a wealth of ways to deliver goodwill.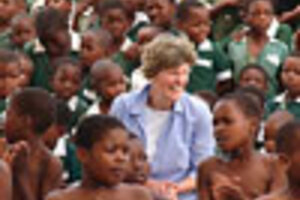 Courtesy of Airline Ambassadors
I love to travel, and I'd like to help families in developing countries. Recently, I looked at the opportunities offered by Habitat for Humanity and other humanitarian organizations. Each time, though, my needs for at least a basic level of comfort and a realistic assessment of my physical capabilities (which don't include swinging a hammer) kept me at home.
So, instead of hands-on helping, I resigned myself to writing checks. That changed, however, when I met American Airlines flight attendant Nancy Rivard.
While on a trip to Croatia, Ms. Rivard delivered a suitcase full of hotel toiletries to a shelter for abused Bosnian refugees. The modest gesture – plus the enthusiasm of colleagues and the support of the airline – resulted in the founding of Airline Ambassadors International (AAI)(www.airlineamb.org).
Initially, donated goods carried in excess cargo space were delivered by flight crews using their pass privileges, but today more than 60 percent of the 6,000 AAI members are "civilian" individuals, families, retirees, teachers, and medical personnel.
Rivard calls it "voluntourism" – a combination of volunteering and touring that results in memorable travel experiences. Every AAI mission includes time for enjoying the destination as well as delivering items such as medicine, hygiene products, school supplies, shoes, and soccer balls.
Volunteers pay their own way and stay at good hotels. They have fun putting on parties at orphanages, making improvements to schools, and helping at clinics. Grateful officials go out of their way to make sure that things go smoothly.
---