Prayers optional: A vacation spent at Italy's religious guesthouses
Italy's Monasteries and convents offer a quiet cultural retreat to travelers.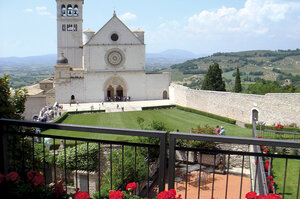 Mary Beth McCauley
We hear the Italian nuns chanting their prayers as we creep down the convent stairs each evening, heading out to find yet another heavenly setting in which to dine on still more of their country's divine abundance.
My 22-year-old daughter and I are staying in religious guesthouses while touring Italy, a popular option in the dozen or so years since several guidebooks sent the idea into the travel mainstream.
At most such places, guests are invited, but not expected, to pray with the hosts. And if Italian was our native tongue, we'd probably join in. But the lack of shared language makes us wary of becoming consumers of things spiritual, looking to check "vespers" off an itinerary. Already, choosing the convent option in a country centered on religion risks trivializing it in a grasp at authenticity. So we opt for dinner.
Kevin J. Wright, travel industry expert and author of "Europe's Monastery and Convent Guesthouses," estimates that hundreds of Italian monasteries and convents – most with only a dozen or two rooms to rent – take in many thousands of travelers each year. Low prices, notoriously clean rooms, a family feel, and the safety of the enclosures are the big draws. And though virtually all are owned by Roman Catholic communities, they shelter travelers of all faiths.
Eileen Barish, author of "The Guide to Lodging in Italy's Monasteries," is Jewish and likens the experience to staying in the home of a welcoming, non-Jewish friend. She drinks in the history, architecture, and even the religious imagery in the buildings, she says. "I go to the chapels when I'm there because they're so beautiful."
---