Obama on makin' it in manufacturin'
The president's diction can shift as he moves from one role to another. That's OK – but just don't say he's dropping his 'g's.'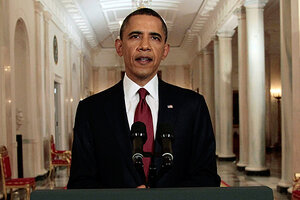 Pablo Martinez Monsivais/AP/File
The first seven days in May were described by news analysts as one of President Obama's best weeks since he moved to 1600 Pennsylvania Avenue. On Sunday night, he reported to the American people on the death of Osama bin Laden: "Justice has been done." By the end of the week, he had good job-creation figures to trumpet and a field trip to a high-tech auto-parts plant in Kokomo, Ind.
But it took only a couple of words from the president to reflect in his speech the difference between roles as he shifted from commander in chief to national salesman in chief: "buyin' " and "makin.' "
The comment that caught my ear was, "America's economy is always going to rely on outstanding manufacturing – where we make stuff, where we're not just buyin' stuff overseas, but we're makin' stuff here and we're selling it to somebody else." The National Public Radio transcript I've just looked up included the standard spelling of these two participles, but his pronunciation was clearly more informal.
Sunday night, he was all serious – as befit the occasion, addressing the nation from the East Room of the White House. We got just about perfect diction, and even a subjunctive ("It is essential that Pakistan continue to join us in the fight").
In Kokomo, he was much folksier – the genial salesman trying to hook the American people on the idea that they need, and can have, a robust manufacturing sector. Let's be clear, though: He was not dropping his g's. Rather, he was substituting an "n" sound for a velar nasal. This is the phoneticians' fancy term for the final consonant of sing. It's generally represented with two letters, "ng," but it's really a single sound, and it's not a "g."
---