Motorists are advised to seek alternatives
When deciding on alternate vs. alternative, what choice do you have?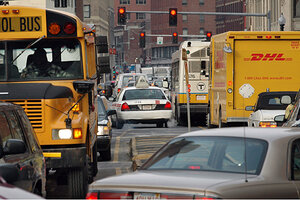 John Nordell/The Christian Science Monitor/File
Whoever decided that the shortest distance between two points is always a straight line obviously didn't do much driving in Boston.
I spend a fair bit of my time behind the wheel trying to get from one side of the Charles River to the other. Surprisingly often, the best way between two points in Boston is through Cambridge. And oh, yes, are the Red Sox in town? I have their schedule, less because I'm a fan than because I want to avoid traffic at Fenway Park.
But Boston traffic jams, however intense, tend to be brief, in my experience. They're not nearly as serious as the one depicted in a cartoon years ago by the late Virgil Partch in the Los Angeles Times. Stuck hopelessly amid multiple lanes of car-clogged freeway, Partch's protagonist, Big George, puts his head out the window of his car to scream helplessly, and futilely, at the traffic helicopter circling far overhead, "What alternate routes??!!"
Or should that be "alternative routes"?
An inquiring reader wants to know. The phrase I have etched in thought from my California childhood, "Motorists are advised to seek alternate routes," is alive and well. Across the United States, local news organizations and public works departments continue to issue this counsel.
But "alternative routes" is out there as well – with over twice as many hits in a Google search just now. "Alternative" skews international, however. My top hits were from an Oxford English learners' dictionary and from The Jakarta Post.
---