Pupils who have yet to unfold their wings
We get it that pre-K is the hot new thing in education – but are 4-year-olds really 'students'?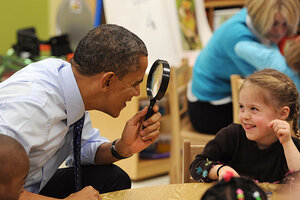 Johnny Crawford/Atlanta Journal-Constitution/AP
Early childhood education, or pre-K (pre-kindergarten) has been the new big thing in educational circles for a few years now.
So when President Obama mentioned preschool earlier this year, Harvard's Graduate School of Education took note. As a news release from the school put it, "President Obama in his State of the Union address became the first president to propose universal early childhood education in our nation's history. This potential signature initiative of his second administration raises important questions at the nexus of policy, practice and research."
The document asked: "How should a major expansion of early childhood education be funded? What should universal early childhood education look like? How can the promise of small-scale demonstration programs be fulfilled at scale?"
This being Harvard, the school already has experts lined up with some answers.
My question is more basic: When the little ones are enrolled into these pre-K programs, what are we going to call them? Dare I suggest they should be called pupils?
The tide's against me. A Google News check for "pre-K students" versus "pre-K pupils" has just tallied 175 to 1 in favor of "students."
Other languages distinguish between university students and younger learners. In German, it's Student or Studentin (for women) versus Schüler or Schülerin (for girls). A baffled-sounding German expressed surprise on an English-language usage website a few months ago that when he sees references to "students" in the English-language press, "most of the time the articles seem to refer to school kids, not university students."
---