Do polar bears need U.S. protection?
A federal agency is poised to say whether global warming means the bear should be added to the 'threatened species' list.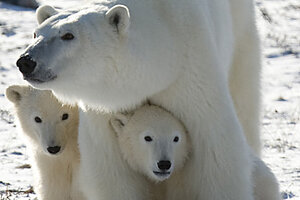 Jonathan Hayward/The Canadian Press/AP/FILE
Do polar bears, which have become the poster child for the potential ravages of future global warming, need special protection from Uncle Sam now?
That's the question under consideration at the US Fish and Wildlife Service, which is poised to recommend whether the icon of the Arctic should be officially designated as a threatened species – even though the bear's numbers currently are not in precipitous decline.
The judiciousness of protecting the polar bear under the Endangered Species Act (ESA), in anticipation that its frozen habitat will be thawing as a consequence of climate change, is a matter of hot debate. Many scientists say Arctic wildlife is experiencing the repercussions of a warming planet more rapidly than organisms in other regions, but others say listing the bear would cause economic hardship and do next to nothing to save its habitat.
"This is a complex issue because we have most polar bear populations not showing significant declines at the moment, but we have a lot of climate models and data showing great losses in the foreseeable future," says Chris Tollefson of the Fish and Wildlife Service (FWS), the federal agency responsible for protecting wildlife and their habitats. The service's recommendation is due by Jan. 9.
---