Pay for college chiefs rising fast
Their compensation has outpaced inflation for five years, prompting demands for oversight, disclosure.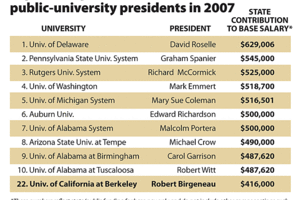 SOURCE: Chronicle of Higher Education/Rich Clabaugh–STAFF
When former Sprint Nextel executive Gary Forsee landed a job as president of the University of Missouri system in December, his annual salary dropped from $21.3 million to $400,000, reflecting the huge disparity in pay between the private sector and academia. Still, Wall Street and ivy towers share this in common: charges that the top dogs make too much money.
To the dismay of professors and students, many leaders of public universities make well above $500,000 a year, while several private colleges pay seven-figure salaries to their presidents.
And their pay is growing at a rapid clip: Last fall, a new study found that compensation of university presidents has grown by 28 to 37 percent over the past five years, depending on the type of university. During that time, inflation lifted the cost of living by 13 percent.
Advocates note that the pay of higher-education executives hardly compares to that of CEOs in the business world. But critics complain that the generosity at the top makes no sense as students face sharp tuition increases and professors see middling pay hikes.
"It's completely unseemly for our administrators to imagine that they ought to aspire to those kinds of salaries," says Lillian Taiz, president of the California State University's faculty association.
"We have an obligation to do a good job and not expect to live like millionaires."
Executive salaries are drawing special attention here in California, where university pay scandals continue to roil the Golden State.
---