General Motors in hot pursuit of 'landfill-free' facilities
The auto giant aims to eliminate all waste at half its plants by 2010.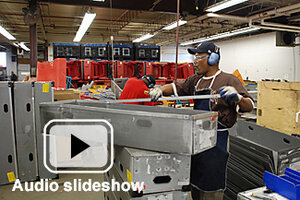 Tom A. Peter
Flint and Lake Orion, Mich.
While even the greenest cars on the market today emit clouds of carbon dixoide, General Motors engineers are out to prove that making cars doesn't have to be a dirty business.
The American auto giant aims to convert half of its 181 facilities worldwide into "zero waste" operations by 2010. That means not a scrap of metal from those GM sites, or even a juice box from a worker's lunch pail, would end up in a landfill.
Sound impossibly ambitious? Consider that last month the company announced its ninth and 10th landfill-free plants. Several more have also reached the goal, say GM officials, but those announcements haven't been made yet.
The effort puts GM alongside a small but growing number of organizations to adopt a zero-waste agenda. Wal-Mart and even 70 percent of New Zealand's municipalities are working to eliminate all trash. Unlike environmental efforts that drag big business along kicking and screaming, the cost savings associated with zero-waste programs have given companies incentive to be at the forefront of the movement.
"Businesses are the ones that are leading the way and showing that it's ... not a crazy idea," says Gary Liss, a zero-waste consultant based in Loomis, Calif.
That's because adopting the zero-waste model offers many businesses quick returns on their investments – unlike switching to some other earth-friendly initiatives, such as solar power. Indeed, more than any initial financial cost, businesses need to invest "the time and effort to get over the hurdles to figure out what needs to be changed," says Mr. Liss.
As for GM, waste disposal was cheap for most of the firm's 100-year history.
---