Chicago's mixed record on school reform
Bush cites city's gains on sixth anniversary of No Child Left Behind. Critics see uneven results.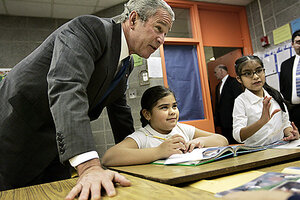 Haraz N. Ghanbari/AP
When President Bush marked the sixth anniversary of his landmark No Child Left Behind reforms this week, he did it at a Chicago elementary school that has shown impressive gains over the past few years.
In many ways, Chicago – a city that embraced accountability, standards-based reforms, and consequences for failing schools even before the 2001 law mandated them – is a perfect place to examine how such reforms are playing out.
"Chicago's been lucky for having a real reform history and maybe even a little innovation tossed in with that," says John Easton, executive director of the Consortium on Chicago School Research at the University of Chicago. "We were ahead of No Child Left Behind on accountability."
With several complex reform measures of its own ongoing, it can be hard to distinguish which changes in Chicago are due specifically to the federal law. But No Child Left Behind (NCLB) and its effects have proved as controversial here as they have nationwide.
Some of the shortcomings of the law, such as an inability to follow through on promises that students in failing schools can transfer, are magnified in a big city like Chicago, because higher-performing schools are already at capacity. In other ways, the transparency and accountability NCLB promises – already in place in Chicago before the law – are starting to pay off as some schools record gains.
Nationally, Mr. Bush has been touting NCLB, crediting it with raising fourth-grade reading scores and narrowing the achievement gap between whites and minorities. Others say they're still waiting to see major results and blame the law for an increased focus on "teaching to the test" rather than giving more resources or training to underfunded schools.
---