Wing and a prayer propel a young black pilot to aviation records
Barrington Irving shunned the drugs and gangs of his Miami neighborhood for his dream of flying – now he helps other kids soar.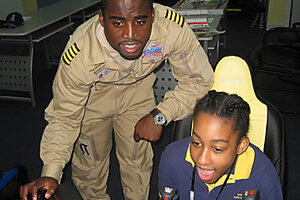 richard luscombe
Like many children growing up on the streets of Miami's poorest neighborhoods, Barrington Irving did not dream he would become one of life's high flyers. Born in Jamaica to a Catholic family that moved to Florida when he was six, his greatest ambition was to evade the drugs, gangs, and violence that blighted Miami Gardens.
But after discovering a passion for aviation from a chance meeting with an American Airlines pilot when he was 15, Irving set his sights higher.
Today, after an extraordinary year that saw him fly solo around the world in 97 days – the youngest pilot (he was 23) and the first person of African descent to do so, according to Earthrounders, an organization that tracks world flight records – Irving is, by his own admission, soaring.
"It's still a complete whirlwind right now, even though I've been back for several months," he says.
In those months, he has traveled the country sharing tales of his epic adventure in schools, at charity dinners and community groups, and even returned to Jamaica, where he was honored with the government's Musgrave Award for young achievers before thousands of well-wishers.
Now, with the same determination that helped him raise money for the flight and saw him through long hours in the cockpit of his custom-built, single-engine Columbia 400 plane – battling 100 mph winds, sandstorms, monsoons, and turbulence – he has thrown himself into a new project.
---