Do pilots get enough sleep?
In confidential safety memos, pilots recount fatigue-related incidents.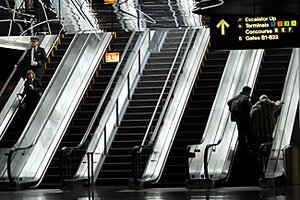 Alfredo Sosa – staff
Nobody wants a tired pilot flying a fully loaded 747 jumbo jet.
The airlines and Federal Aviation Administration insist that no pilots are – at least, none who are tired enough to jeopardize safety.
Yet pilots say they're seeing "an alarming increase" in complaints about fatigue, one that could have disastrous consequences.
In a series of confidential safety memos, obtained by the Monitor and filed as part of a system to report aviation problems, pilots list a range of fatigue-related issues – from using the wrong taxiways to flying at the wrong altitude. One pilot even worries his airline is now at risk of losing a plane.
As a result, the Air Line Pilots Association, America's largest pilots union, has created a blue- ribbon commission to document the incidents in the safety memos and report additional fatigue-related concerns. The commission will give a report to Congress and the National Transportation Safety Board (NTSB).
Its goal is to get the FAA to revise the regulations that determine if and when it's safe for a pilot to fly. They were first put into effect in the 1940s, when there were no valid scientific studies documenting the importance of sleep patterns, circadian rhythms (the changing 24-hour sleep cycle), or the effects of fatigue, which scientists have found to be debilitating.
Indeed, the NTSB, America's transportation-safety watchdog, has urged the FAA to address the problem since the 1990s, when it first named pilot fatigue as one of its top "most wanted safety fixes."
It remains on that list today, with the FAA's response noted as "unacceptable" because the current rules are unscientific and were put into effect when there were only a few highly regulated airlines that had far fewer flights. Technology wasn't as advanced, and there was nowhere near the number of diversions, cancellations, and air-traffic control problems that pilots routinely encounter today.
---