Farmers' markets in winter? A bounty of help for growers.
In the upper Midwest, a church coalition coordinates 50 winter markets – and offers additional help to farmers struggling to stay solvent.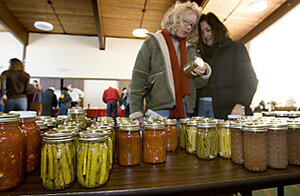 Andy Manis/AP
Ken Ruegsegger struggled after he sold his dairy herd a few years ago and concentrated on raising animals for their meat.
A coalition of religious groups stepped in and paid an electric bill for his farm near Blanchardville in southwestern Wisconsin. Now he's paying them back and earning a profit as he sells his wares at indoor markets that have become popular in Wisconsin, Illinois, and Iowa in winter months. "It's a real good feeling," Mr. Ruegsegger said.
The markets in church halls, which began in December 2003, are being coordinated by the Churches' Center for Land and People, a coalition based at Trinity Episcopal Church in Janesville, Wis. It is composed mostly of religious denominations and orders in the three states.
The indoor markets provide farmers with a place to sell until outdoor markets reopen in the spring, said Tony Ends, the coalition's executive director. The farmers are asked to donate 10 percent of their market proceeds to the Harvest of Hope emergency fund to help farm families get through financial difficulties.
---